Bartender Wanted @ Duke of Tokyo
As a Bartender for Duke of Tokyo you'll be the face of our company. From mise en place, to bartending to research & development for new menu drinks.
Languages required
English
Venue type
Night club, Cocktail bar
We're looking for a bartender, that has a passion for spirits, drinks & hospitality.

As a bartender you need to be a problem solver, a quick thinker and above all a team player. Without the bartender there is no hospitality.

At Duke we're all about growth, so after our in-house training and tasting.You'll be trained and up to speed to be behind our bar.

(Must live in the Netherlands to apply, or available for a trial shift)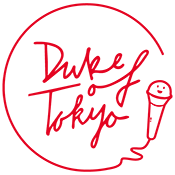 Busy and lively bar in the city centre of Amsterdam serving Japanese inspired cocktails with 8 private Karaoke rooms available for rent.