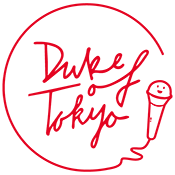 Venue type
Night club, Cocktail bar
Location
Amsterdam, Netherlands
Duke of Tokyo
Busy and lively bar in the city centre of Amsterdam serving Japanese inspired cocktails with 8 private Karaoke rooms available for rent.
Inspired by the buzzing back streets of Tokyo's coolest neighbourhoods, Duke of Tokyo is a Karaoke bar and cocktail bar like no other. Utilising Japanese ingredients in the cocktails, along sakes & spirits, all being served up by some of the best in the business as well as offering 8 Private Karaoke rooms where you can relax, sing your hearts out and enjoy dedicated drinks service to your Karaoke room.

Come by for a drink, stay for a song, and let us transport you to Tokyo for an evening - have all the fun and none of the jet lag!