Bar Manager Needed
We are currently recruiting a Bar Manager to help manage the Garden Room Bar & Lounge at the 5 star Druids Glen Hotel and Golf Resort.
Languages required
English
Contract type
Indefiinite
Responsibilities:

- Management of the bar and lounge operation and team on a daily basis
- Work closely with the Kitchen and the Head Chef to ensure timing, quality and food service standards are delivered
- Strives to continually improve guest and employee satisfaction and maximise the financial performance in areas of direct responsibility
- Determines training needs to accomplish goals and implements plan
- Works with the food and beverage and kitchen management team to successfully execute all bar and lounge operations
- Maintains a management presence on the floor at all times to ensure guest satisfaction and recognition
- Promotes a helpful and professional image to the guest, and gives full co-operation to any guest requiring assistance, with a prompt caring and helpful attitude
- Creates an environment which encourages good teamwork and morale among the food & beverage team and to have pride and commitment in their work
- Understands beverage control including days on hand, perpetual inventory, bar pars, portion control, costs controls, beverage potentials, mix of sales analysis for beverage, issue & returns, food standards, and period end inventory
- Responsible for labour costs of all team members; therefore, supervises the effective scheduling of team members and reviews schedules in terms of coverage and adherence to budget guidelines.

The ideal candidate will have:

- Food and Beverage "front of the house" management experience with demonstrated leadership skills
- Proven ability to lead bar and lounge operations with a track record of delivering financial results, guest satisfaction, staff retention and employee engagement
- Proven track record of beverage stock management and the ability to deliver budgeted cost percentages
- Proven track record of payroll management and the ability to achieve required payroll targets
- Knowledge of organisational brand standards and track record of achieving relevant targets.
- Previous experience as an assistant Manager incorporating both food and beverage operations
- Demonstrates the passion in keeping abreast of current trends in Food and Beverage
- Previous experience within the 5 star market is a distinct advantage.

In return, we also offer excellent employee benefits including:

- Career Development and Training
- Rewards for personal achievement in sport
- Rewards for personal achievement education
- Rewards for personal achievement in community activity
- Length of Service Rewards
- Internal Training Rewards
- Upselling & Other Departmental Rewards
- Discounted Spa treatments
- Educational Assistance – for Hospitality & other professional courses
- On-site Gym (COVID restrictions may apply)
- Bike to work scheme & other commuter plans
- Meals during shifts
- Free on site tea/coffee
- Free parking
- Healthy Snacks
- Staff Discounts on accommodation in our Sister Properties
- Opportunities for advancement & Career Development
- Employee Recognition (eXcellence Points)
- Achievers of the Year
- Leaders of the Quarter
- Achievers of the Month
- Departmental Star of the Month
- X-points Reward Catalogue
- Employee Referral Bonus
- Financial Planning Resources
- Complimentary Golf
- Team & Departmental Rewards

If you have previous experience and would be interested in the opportunity of career advancement within a 5 Star property contact us today.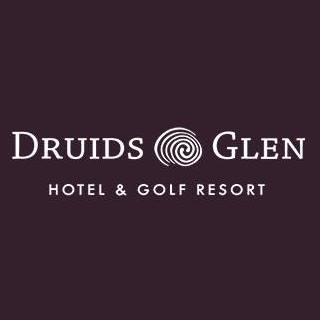 Druids Glen Hotel & Golf Resort is located in Co. Wicklow "The Garden of Ireland" the perfect destination, rich in culture and heritage as well as natural